.:: decoy - push button pony ::.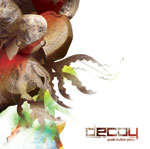 |Buy This CD|
decoy album tracking list:
Dance N Dust Records is proud to present the 2 nd full-length album from the Australian duo Decoy!
The members in Decoy are Ian Chaplin and Philip Rex - two talented musicians with a rich musical background which clearly shines through in their live-performances, including Ian on soprano sax and Philip on acoustic bass. They got infected by the psytrance scene 8 years ago, and have since then made music under the name Decoy, with several appearances on festivals like Earthcore, Rainbow Serpent and Earthdance and releases on labels like Digital Structures, Plusquam, Green Ant, Yellow Sunshine Explosion and Dance N Dust Records. Apart from their project Decoy, they have also collaborated with Son Kite's sideproject Minilogue.